Today I'm linking up with Shannon at Life After I Dew for So What Wednesday....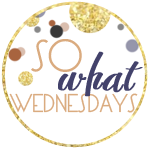 So what if.....
I plan on eating some candy tomorrow...it's Halloween, so that makes it ok duhhh.

I'm really excited for new seasons of Vanderpump Rules and Real Housewives of Beverly Hills. I love me some reality TV, especially on Bravo.
I don't know how I'm going to resist cranberry bliss bars when we get them in at work. They are seriously DELICIOUS. It's definitely going to take some serious willpower to not eat my weight in them everyday.




I'm asking for a Bump Nest pregnancy pillow for Christmas, even though I AM NOT PREGNANT...just to make that clear. I always sleep with a pillow between my legs and I'm a total blanket hog because I like having something in my arms. I think the Bump Nest is the perfect solution, it looks sooo comfortable. I can't wait to take it to bed

that's what she said

.

I spent a small fortune on groceries this week. I have a love/hate relationship with grocery shopping. I love shopping and getting yummy things, but I HATE how much it all costs

I'm a broke bitch

.
What are you saying "so what" to today? What is your favorite Halloween treat?