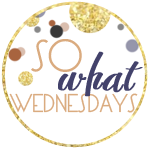 So what if...
I didn't want to get out of bed this morning AT ALL.

I still have 5+ loads of laundry to do that I didn't do last week...I REALLY suck at keeping up with laundry.
On Friday I went back and bought 2 more

cardigans

from Kohl's.
On Friday I also spent $40 that I didn't really need to spend on these beautiful boots. They are so worth the $40 and I'm wearing them for the first time today.

I'm ready for my first semester of grad school to be over with already

hurry up October 31st

.

I'm a procrastinator...I work better under pressure.

I haven't had time to read for pleasure since the end of August. This is actually quite depressing; I love to read.

I'm not totally in love with iOS7.

I wish I could just stay in bed all day and do nothing.

I'm feeling a tad bit overwhelmed.

I showed up to work a half hour early yesterday and lost a precious half hour of sleep

that I can never get back

. I definitely won't be making that mistake tomorrow.
What are you saying "so what" to today?